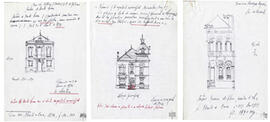 PT FIMS ACPC
·
Fonds
·
1899 - 1991
The information content is the outcome of António Cardoso's collection of all the documentation he used to write his doctoral thesis: O Arquitecto José Marques da Silva e a Arquitectura no Norte do País na primeira metade do séc. XX, [Architect José Marques da Silva and the Architecture of the North of the Country during the first half of the 20th century].
The various copies of originals from the time of José Marques da Silva can be accessed by the public, including: periodicals, photographs, postcards, correspondence, dossiers relating to projects (both built and not built), press cuttings and notes.
Here you can see data relating to José Marques da Silva in all the different aspects of his life – the man, the artist and the scholar.
Untitled